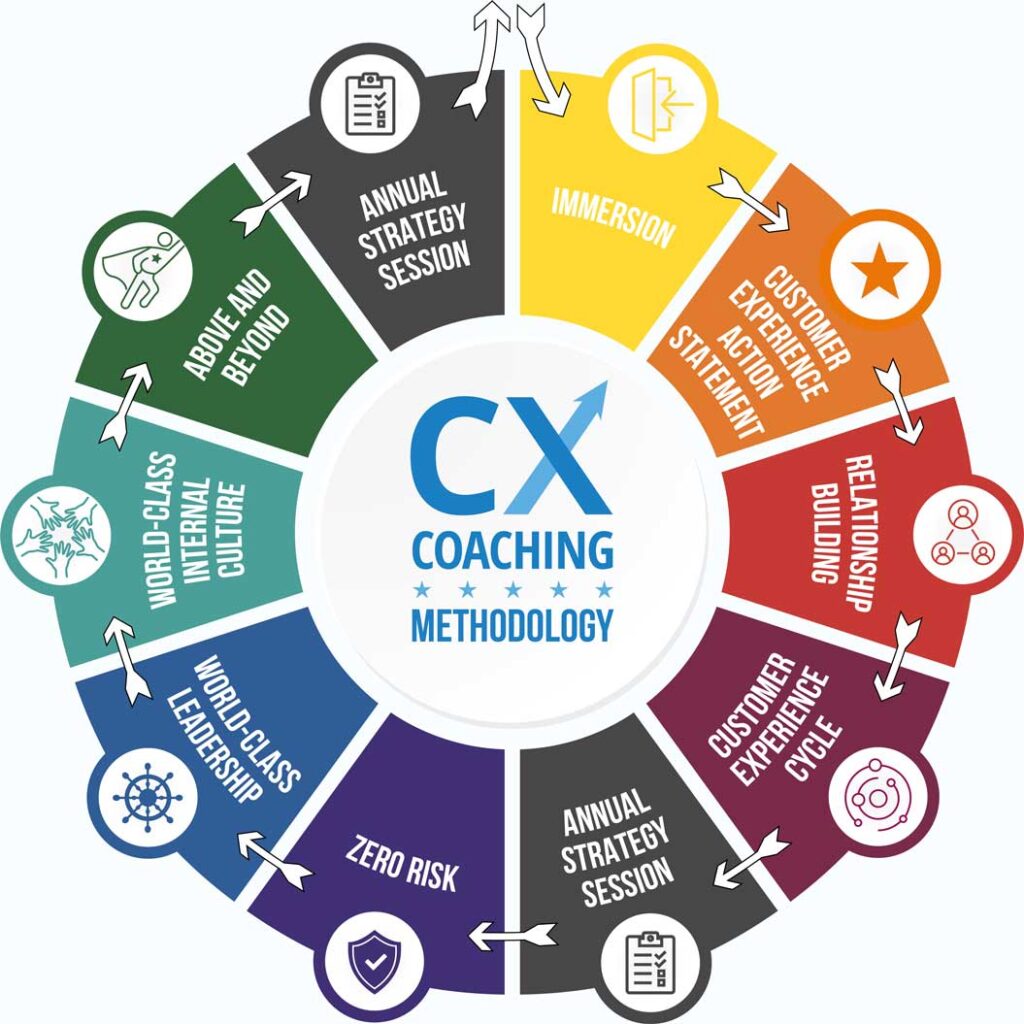 The CX Course Every Business Needs
To Remain competitive in today's connected world
From years of studying and working with world-class customer service organizations, we have found there are principles they all have in common that differentiate them from other organizations and elevates them to a different customer service level. This methodology is irrefutable.
The CX Coaching system has a proven track record of transforming businesses with little to no customer service system, into highly profitable businesses at the top of their game. 
Tap the steps below to learn more
This is where your company starts to build a culture that is obsessed with providing an experience to their customers and employees. Understanding in detail your CX journey, methodology, each quarterly session, developing your CX KPI's (key performance indicators), the roles of the leadership team, CX project lead, and steering committee. Review your Company Service Aptitude Test (Co SAT™) results, reduce your negative cues, create a simple list of non-negotiable standards for every team member to follow, and learn how to hold your weekly CX Meeting.
CX Action Statement
Session
The Customer Experience Action Statement is the most critical part in training employees to provide a positive experience with every interaction. It is an action statement; a clear call to action of what each employee should intentionally achieve every time they interact with a customer. You will also develop a Day in the Life of the customer story. The Day in the Life helps employees walk in the customer's shoes and view the interaction from the customer's perspective, which will make them more present, and have more compassion and empathy.
Relationship Building
Session
Create systems that easily enable front-line employees to personalize the customer's experience by engaging them and anticipating and delivering on their needs. Having great standards is not enough, you now need to systematize those standards in order for them to be realistically delivered on a consistent basis.
Create non-negotiable experiential standards that remove variation and provide a consistent world-class customer experience at every touch point for each stage of the customer's journey. These experiential standards allow employees to provide a consistently engaging experience that is unlike the majority of competitors
Anticipate your service defects and have protocols in place to make it right. All employees must have full awareness of the potential common service defects that can arise at each stage of the Customer Experience Cycle. Train and empower employees to provide consistent service recovery when defects arise and how to handle challenging conversations.
World-Class Leadership
Session
Train leaders to lead within your service culture. Create a world-class internal culture that focuses on attracting, hiring, and retaining only the people who are capable of upholding the Customer Experience Action Statement. Every world-class customer service organization is world-class to work for. It takes World-Class Leadership to inspire passion, foster trust, and support teams within a customer centric culture.
World-Class Internal Culture
Session
Create an internal experience between team members and departments that is world-class. Improve communication within departments, locations, and other teams. Identify all customer segments and define how the work they do impacts the external customer experience. Remove silos and build more compassion & empathy internally.
Constant awareness and branding of how to be a hero. Create an awareness of the most common opportunities where employees can deliver heroic service for the customer. Create an above and beyond culture and develop systems to share the stories.
Annual Strategic Planning
Session
Recap the past year including project success, victories, milestones, areas of opportunity, and KPI assessment. Plan next year's objectives, goals, and define future success.
You can't afford NOT to level-up your CX game. I'll get you there!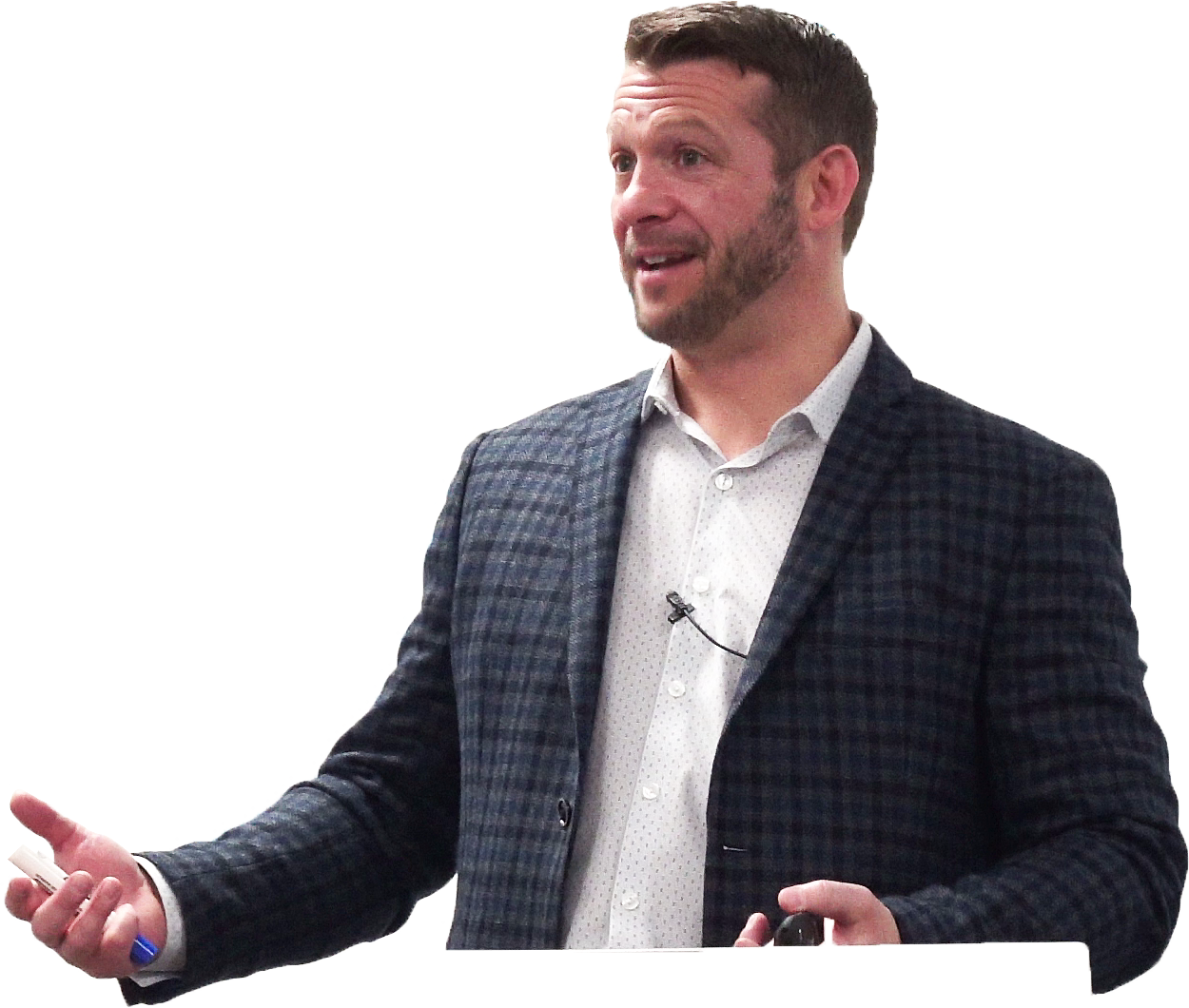 Customer Experience (CX) is the new battleground for growth in every industry.
Is your business fighting for growth or customer retention?
Don't get left behind in the CX revolution. 
Get ahead of your competition and stay there.